Feed my baby
A gentle transition for successful weaning
Whether you opt for total weaning (removal of all feeds) or partial weaning (replacement of some feeds with artificial milk or solid foods), the process is not one that will take place overnight. A gentle transition is required for this change to be acceptable for both baby and for you. Read on to find out about the keys to successful weaning !
Weaning step-by-step
You want to go for total weaning? Start by removing the feeds in the middle of the day. Then progressively, in addition to the midday feed, depending on what you choose, either the evening feed or the morning feed, or inversely. A gently transition will have the benefit of not completely disrupting your relationship with baby and your lactation will slowly decline, thereby reducing the risk of engorged breasts !
For partial weaning, maintain a few feeds during the day. The morning and evening feeds for example. For the other meals, you can give your baby artificial milk, accompanied if you choose by solid food depending on their age.
You should note however that some mothers struggle to maintain good lactation with this rhythm. If this proves to be the case for you, why not try a breast pump ? At work, there is a legal requirement for you to be granted 1 hour a day to express milk, so don't feel concerned about this aspect of things !
An alternative is to maintain three feeds a day (morning, late afternoon and evening, for example) when the child is with you, combined with bottles when they are with the child-minder or at nursery, and then to return to the usual breastfeeding rhythm at the weekend and on days-off to stimulate lactation.
If you wish to continue breastfeeding whilst working, it is pointless trying to familiarise your baby with the bottle before being separated from them and their arrival at nursery.
Breastfeeding is between the two of you, and the bottle is with the child-minder or at nursery. Even if bottle-feeding at nursery is tricky for the first few days, they will soon get used to it. A patient, determined member of staff will help them accept the bottle.
Once you have removed the first feed, you will experience a softening in your breasts after 2 or 3 days: this is a sign that it is time to remove the second feed! And so on… By being aware of the signs your body gives you, you will avoid engorged breasts and weaning will be an easier process as a result.
I learn to soothe sore breasts
If your breasts are swollen and tender, express a little milk manually. A breastfeeding specialist can show you how to do this if necessary.
I do not resort to medication
There is no point in taking medication during weaning to reduce lactation. Over the course of time, your breasts will naturally produce less and less milk because baby is consuming less.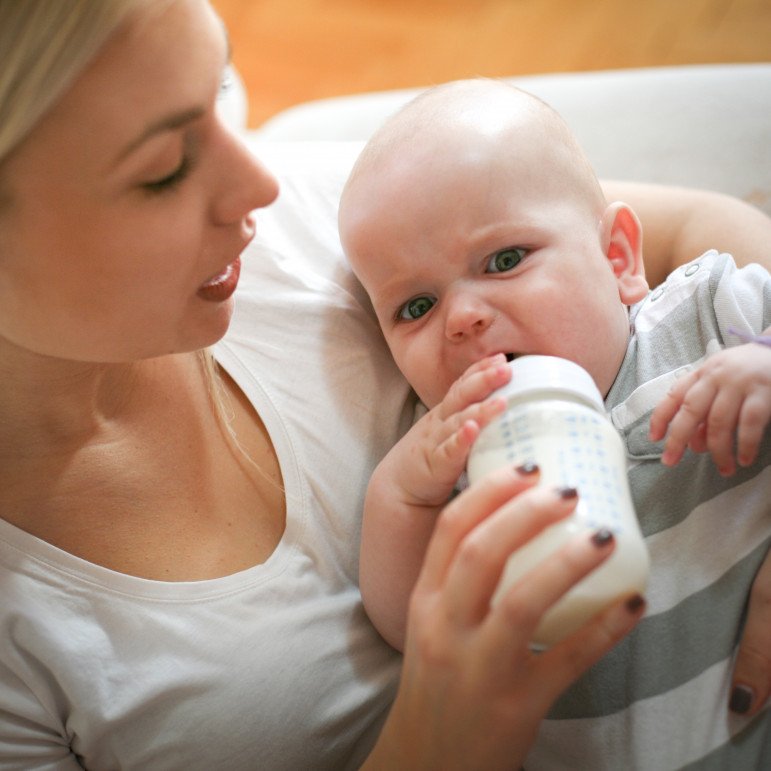 And what happens if baby refuses the bottle?
If your baby resists this change, continue to offer them the bottle, but don't ever force them. At the beginning, don't hesitate to fill it with your milk. They will progressively get used to the new texture of the teat and will eventually accept it. And at this point you can start using artificial milk.
Avoid giving them the bottle in the room where you would normally breastfeed, and initially you can ask their father or another person close to you to give baby their bottle. Your baby will progress beyond the breastfeeding relationship more quickly.
Whichever approach you try, the keys to success are as follows: a baby who is constantly reassured and cuddled and a change that takes place in a calm, attentive atmosphere.
EXPERT OPINION: instructions on preparing the very first bottles!
Before anything else, wash your hands thoroughly before beginning to prepare the bottle. Set yourself up in a clean space and make sure that the bottles, teats and utensils are all perfectly clean. These pre-requisites are essential for baby's good health !
For environmental reasons, opt for glass bottles rather than plastic bottles.
Use only the recommended dose of milk for each bottle. To ensure that the quantities are correct, put the scoop fully into the powdered milk and then run the blade of a knife over the top to level it off. Count one level scoop of milk for 30ml of water Ensure that you always measure out in 30ml quantities and never by half scoops as quantities will not be correct.
Mix the water and powdered milk. To avoid making a mistake, refer to the volume of water and the number of scoops of milk listed on the side of the box. Doses vary depending on baby's age and weight.
Go and check at the town hall to see if it is possible or not to use tap water. To find out more (Link to the article How to prepare a bottle).
After closing the bottle, shake it energetically to avoid lumps.
Gently heat it using a bottle warmer or under the hot tap (never use the microwave !). It should be served at around 37°C. Check that it is the correct temperature by pouring a few drops onto the back of your hand or by holding the bottle against your neck.
If it isn't possible to heat the milk, it can be given at room temperature. It does appear to be more easily digested by baby when warm, however.
If there is just one golden rule to stick to, it's this: any bottle not consumed within an hour must be discarded! The box of milk can be kept for about 1 month if it is correctly resealed and stored in a cool, clean and dry place.
After each use, clean the bottles, teats and screw tops with a bottle brush using water and washing up liquid and then rinse thoroughly. Air dry, do not dry with a tea towel, and store in a clean place. You can also wash bottles in the dishwasher, provided you rinse the bottles beforehand.
Note that it is not worth forcing baby to finish their bottle. Their appetite varies from day-to-day and depends on the time of day. Be attentive to their needs.