Baby is growing
Baby's first words
From gurgles to first words, language is a key period in baby's development. Speaking to your baby, every day, right from the very beginning, will help them acquire the basics and more as the days go by…It's your turn to play!
Baby, we need to talk
Learning to speak requires a lot of patience and perseverance. Obviously, baby won't become a chatterbox from one day to the next! Each child is different in their pursuit of language and follows their own rhythm and shouldn't feel under any pressure at all.
In order for the monologue to become a dialogue, it is essential that you frequently spend time talking to baby. A simple discussion, songs, reading… it can be anything, provided that you are both enjoying it. The more your child feels that you are investing in their language development, the more they in turn will invest.
Of course, initially baby won't be able to understand everything that you are telling them. But with varied vocabulary and good diction, there will soon be clear signs of progress.
To make it easier for them to learn, it is essential that your words are accompanied by mime and gestures. This will help baby make the link between what you saying to them and the resulting action. And very quickly they will have fun pointing things out themselves with their finger.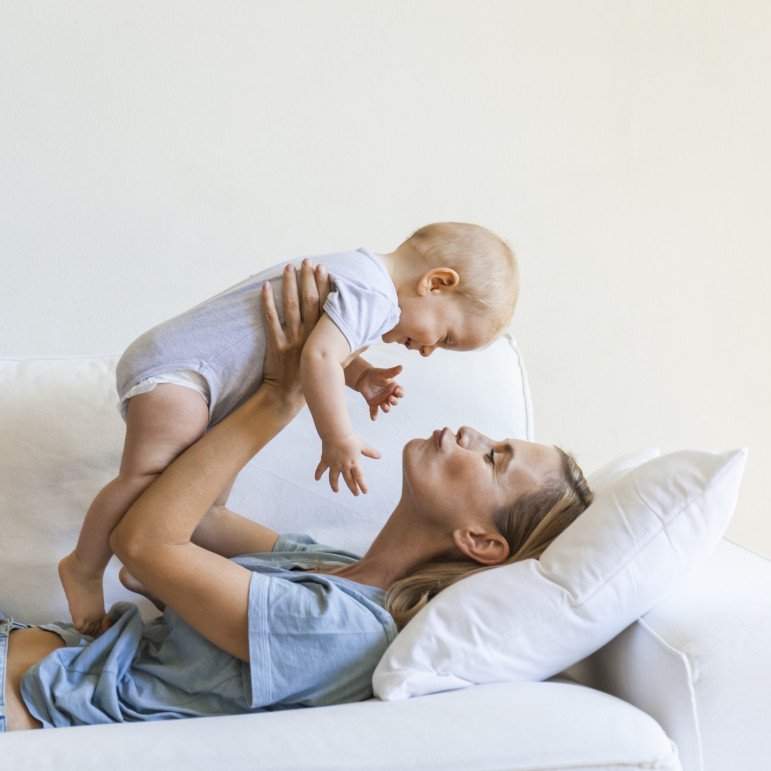 Try and remember that in language learning, nothing is left to chance.
Crying is baby's first means of communication. By crying, they are making a request: reassurance, a cuddle, a feed…Your response will encourage them over the following days to communicate again to try and get what they need.
Hearing plays a central role in language learning. Baby is sensitive to the tone of your voice and needs to hear it to become more aware of and understand its different tones.
Just like hearing, vision is also an essential sense. Baby needs to look at you, to observe your movements and gestures and then to imitate you when you are talking in order to understand the meaning of what you are saying.
Your voice reassures baby and therefore acts as a model for them. By clearly pronouncing the words you are saying to them, not only will baby hear better, but will be able to reproduce the movements of your mouth more easily.
If they like copying you, they will also love it when you copy them… So it's your turn now!
ZOOM: how to help baby when they start talking
Congratulate baby and encourage them to continue whenever they make any progress.
When they make a mistake, repeat the word in question so that they assimilate it. Of course, don't be too demanding.
Let them express themselves and reformulate their phrases if they are unintelligible, without asking them to repeat themselves.
Question them to encourage them to develop their request further.
Continue to play with them, to read stories and to sing together… multiply your activities in fact!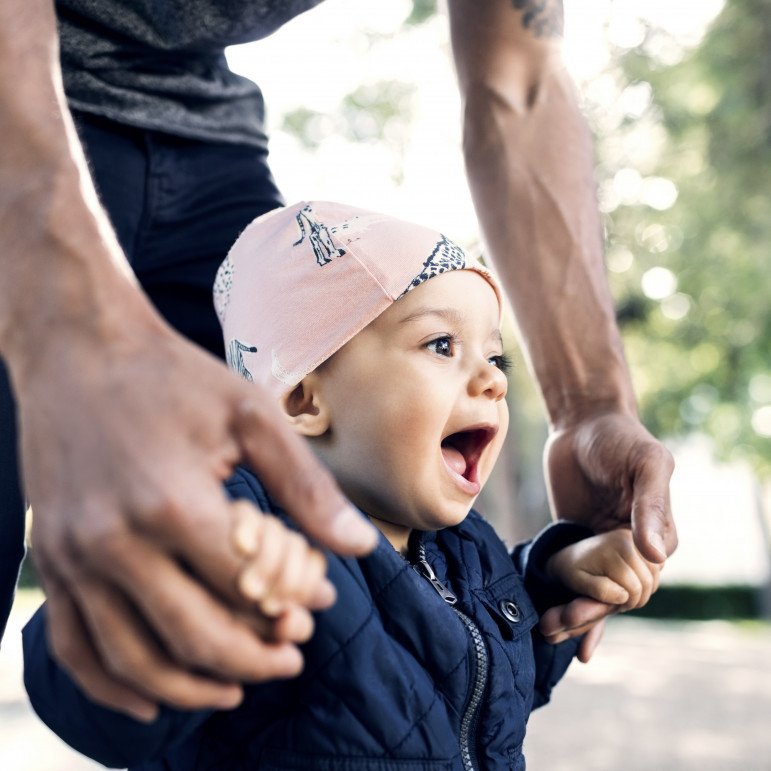 Delayed language: what are the signs?
Over the course of time, baby's language will improve. It is advisable to seek the advice of your doctor if you observe an anomaly is what should be constant development:
Before anything else, start by checking that baby can hear properly: check that they jump at a sudden noise, answer you with gurgles… Find out if there is a history of deafness or language-related problems in either of your families.
Between 1 and 3 years old, baby will start to put words together and construct increasingly complicated sentences, their vocabulary becomes more diverse, they are interested in everything around them and ask lots of questions. In this age bracket, language delay manifests itself through difficulty in making oneself understood, a tendency to stutter, an inability to construct correct sentences, a lack of concentration…
At 3, a child fully understands the concept of "I", constructs increasingly complex sentences, starts to learn function words and their vocabulary never stops growing… On the other hand, their pronunciation is not always perfect. Do not hesitate to seek professional help if your child is not yet using complete sentences or if their vocabulary is limited, or if you see that you are the only person who can understand your child.
At the age of 4, a child has a good understanding of function words, their vocabulary is precise, sentences are longer and the child's articulation is correct. Language delay manifests itself in poor understanding of complex sentences, a lack of vocabulary, shortened words or a stammer.
From 4 to 6 years old, the child plays with words and now has a full understanding of language. Victory! They like nothing better than being told stories so that they can then have a go at making some up. Their diction is clear and they can start learning to read and write.
Make an appointment with your doctor if your child is making pronunciation errors, has poor articulation, uses poorly constructed sentences or simply has problems making themselves understood.
Remember as well that with the correct input, these simple language delays can be resolved before your child is 6 years old.